On vous aime chers lecteurs alors pour vous souhaiter une bonne année et vous montrer notre amour, voici la mixtape un peu street que nous avons enregistrée live il y a un mois . La sélection a été faite par l'équipe des soirées Baile MTL (aka Jay WattsIII, J-P Emond et moi même Guillaume Decouflet) et représente ce que vous pouvez entendre dans nos mix djs ou durant l'émission de radio (au cas où vous ne l'écoutez pas déjà). Abonnez-vous au blog pour être tenu au courant! En 2007 on passe à la vitesse supérieure ici!

Because we love you, we want to show some love and wish you a happy new year, here's the mixtape we recorded live about a month ago in a couple hours. Selection has been made by the team of the Baile MTL nights (aka Jay WattsIII, Jean-Philippe Emond and myself Guillaume Decouflet) and showcase what you can hear during our dj sets or during the weekly radio show (in case you don't listen to the podcasts already). Suscribe to the blog to get updates! In 2007 we're pushing it to the next level!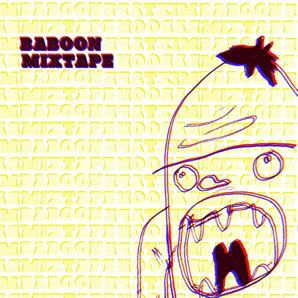 Download BABOON MIXTAPE
70' Min - International Booty Beats
01 Paul Devro - Tembleque (Canada)
02 Tigerstyle Feat. Bikram Singh - Taakre (India/UK)
03 Mandozaa - Uzoyithola Kanjani (South Africa)
04 Mataputsi - Kas'lam (South Africa)
05 Black Box - Everybody (USA)
06 Dj Orgasmic - Cécile (Brazil)
07 ??? - ??? (Brazil- from a Funk Neurotico compilation)
08 Voltair - Clek Clek Boum (Brazil/France)
09 Mcs Junior e Leonardo - Rap Das Armas (Brazil)
10 Bonde Dos Saradinhos - Que Delicia (Brazil)
11 Bounty Killer - Dem Fi Get Fuck (Jamaica)
12 Beenie Man - Jamaican Style (Jamaica)
13 TOK - Waah Gwan (Jamaica)
14 Ditzra - West I (Guadeloupe/France)
15 Weafer - Yo K Jalou Pou Ayen (Réunion/France)
16 Demon - Riddim in the Park (Jamaica)
17 Diamond Grilling - The Dough (France)
18 Ludacris - Throw The D (USA)
19 2 live crew - Hoochie Mama (USA)
20 Kinsu - Tha Hop (USA)
21 Jorge Ben - Taj Mahal (Brazil)
22 Noite E Dia - Tira Makossa (Angola)
23 Buraka Som Sistema - Yah! (Portugal)
24 Ja Katana - Dis Girl Could Wine (Trinidad/UK)
25 Roll Deep Ft. Skepta - Duppy (UK)
26 Criollo - Cri Cri Criollo (Montreal/Dominican Republic)
27 krys and mighty ki la - Wayne (Martinique/France)
28 Konono n°1 - Couleurs Café (Congo)
Give us some feedback! Show some love!
You can also:
Listen to the show
Subscribe to podcast
Au menu: Dubstep Anglais et d'ailleurs, Dirty South, Hip-hop méchant du Québec et de Rio, Reggaeton Old School..
Traclisting
|30.12.06|
Skream - Auto-Dub
Tubby T - Ready She Ready (Seiji remix)
Buraka Som Systema - Morte Do Sonic
Young joc - It's Going Down (Dubstep remix)
Dj Unk - 2 Step
Moi & Moi - Zamba Kotem
Z'Africa Brasil - Hip Hop Rua
Dj Blass - La Danza Bellaca
***Baile MTL Crew - BABOON MIXTAPE ***